TLS® 30-Day Jump-Start Kit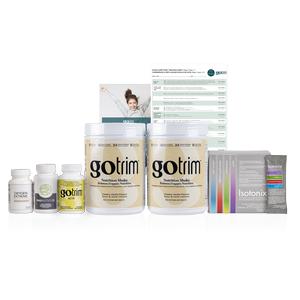 FEATURED RECOMMENDATIONS
Benefits
---
NutriClean® 7-Day Cleansing System
Natural and gentle detox!
Contains beneficial, cleansing herbs
Ideal cleanse for beginners
Used in Herbal Medicine:

To help relieve digestive disturbances/dyspepsia
For the short-term relief of occasional constipation
To promote bowel movement by direct action on the large intestine
To help increase bile flow (cholagogue)

Helps provide gentle relief of constipation and/or irregularity
Cascara sagrada is traditionally used in Herbal Medicine as a stimulant laxative
Gentiana lutea is traditionally used in Herbal Medicine as a digestive tonic to aid digestion
TLS Nutrition Shake
A healthy meal-replacement shake
Great tasting nutrition shake available in two flavours: Chocolate Delight and Creamy Vanilla
Includes 25 vitamins, minerals and essential nutrients, including B vitamins and also antioxidants vitamin C and E
Excellent source of fibre
Packed with 18 g of high quality soy protein to handle your hunger
Contains Fibersol-2®, a 90% highly concentrated form of dietary fibre
When used in conjunction with regular exercise, may contribute to weight loss or weight management
Useful in weight reduction only as part of an energy-reduced diet
No colours added
Source of calcium
Low in saturated fat
Gluten free
TLS CORE Fat & Carb Metabolizer
Helps improve (postprandial) glucose metabolism (within two hours after a meal)
Helps the body to metabolize carbohydrates
Helps the body to metabolize fats
Helps reduce the (enzymatic) digestion of carbohydrates
A factor in the maintenance of good health
Isotonix Daily Essentials Packets: Convenient On-The-Go Packets with Four ESSENTIAL Customer Favourites:
Isotonix OPC-3
The most powerful antioxidant supplement on the market today!
Isotonix Multivitamin
Get TOTAL Nutrition!

Helps to:

prevent vitamin and mineral deficiencies
maintain immune function
maintain healthy skin
maintain eyesight, skin, membranes and immune function
form red blood cells and helps in their proper function

Helps in the function of the thyroid gland
Provides support for healthy glucose metabolism
Isotonix Advanced B-Complex

BOOST your B Vitamins!
Contains essential B vitamins or provides the body with the necessary and important B vitamins for overall health
Helps to:

maintain proper muscle function
the body to metabolize carbohydrates, fats and proteins.

Isotonix Calcium Plus
Essential for maintaining strong bones and healthy teeth!

Helps in:

the development and maintenance of bones, cartilage, teeth and gums
the absorption and use of calcium and phosphorus
Why Choose the TLS® 30-Day Jump-Start Kit?
---
These days, weight management is depicted as a battle with complex programmes, extreme exercise classes, highly restrictive diets and expensive gadgets. We believe weight management should be simple. Our lives are stressful enough without adding in complicated weight management regimes — getting healthy should be straightforward and achievable for everyone. Which is why we've developed the TLS® 30-Day Jump-Start Kit, designed to make getting back on track to health and wellness a cinch.
Inside the 30-Day Jump-Start Kit you'll find the 30-Day Jump-Start Booklet and a Tracking Sheet, because weight management is a journey and you need a guide. The kit also includes five of our most popular products to enhance your weight management efforts and nourish your body with essential vitamins, minerals and nutrients.
During Phase 1 you'll start taking the NutriClean® 7-Day Cleansing System. This supplement uses nutrients, herbs and botanicals to mildly purge, detoxify and purify the digestive system. This is vital because priming your metabolism with a detox cleanse may increase weight loss. Another powerful product you will use is TLS® CORE Fat & Carb Metabolizer, which helps inhibit the amount of starchy carbohydrates being absorbed by the body. It also promotes a feeling of fullness, which will help keep you on track and away from unhealthy foods.
For further support during Phase 1 of your Challenge we've included our Isotonix® Daily Essentials Packets, you can be sure that you're giving your body the essential vitamins, minerals and nutrients it needs, thanks to four essential supplements – Isotonix OPC-3®, Isotonix Multivitamin, Isotonix Advanced B-Complex and Isotonix Calcium Plus – in one, convenient serving to promote long-term health and optimal nutrition.
To help round out your nutritional needs during Phase 2 of your Challenge, we've included TLS® Nutrition Shakes in the kit. The shakes provide additional protein to fuel your body. For continued support during Phase 2, continue taking the Isotonix Daily Essentials Packets.
When used as directed, these products provide a solid foundation for maximizing your metabolism and achieving successful weight management. Refresh your system and reach your weight management goals with this great new kit from TLS Weight Management Solution.
FAQ
---
Who should use the TLS® 30-Day Jump-Start Kit?
Anyone who is looking for an easy-to-follow, cost-effective, all-inclusive kit that promotes optimal body composition and addresses the essentials of effective weight management. Whether you need to tone up, manage your weight or want to jumpstart a longer weight management journey — the 30-Day Jump-Start Kit is for you.
How do I use the 30-Day Jump-Start Kit?
During Phase 1, take the NutriClean® Cleansing System, Isotonix® Daily Essentials Packets and TLS® CORE Fat & Carb Metabolizer supplements. In Phase 2, use the TLS® Nutrition Shakes as snacks and continue taking the Isotonix Daily Essentials Packets and TLS CORE Fat & Carb Metabolizer supplements. For best results, use in conjunction with the 30-Day Challenge Booklet. Follow the nutritional directive outlined in the Guide and take supplements as directed.
How does TLS® CORE Fat & Carb Metabolizer support weight management?
In the weight loss game, carbohydrates can really pack on the pounds. Carbohydrates can also trigger leptin resistance and lead to higher blood sugar levels, increasing insulin causing the body to store fat. When you work towards your weight loss and healthy lifestyle goals, TLS CORE Fat & Carb Metabolizer works as hard as you. TLS CORE Fat & Carb Metabolizer contains the active ingredient Phase 2, a white kidney bean extract. Phase 2 inhibits the enzymes that normally breakdown carbohydrates into glucose within the small intestine. As a result, the absorption of glucose from carbohydrate-rich foods, such as bread, potatoes, rice and pasta is inhibited. This gives you an advantage by minimizing the effects of surplus carbohydrates that are waiting to be converted into fat within the body. TLS CORE Fat & Carb Metabolizer contains GreenSelect (Green Tea Extract Phytosome), a caffeine free extract from green tea leaves combined with phosphatidylcholine from soybean. Green tea is known for its ability to inhibit the breakdown and absorption of dietary fat. Research has also shown that green tea polyphenols promote a healthy metabolism.
How do I use NutriClean® 7-Day Cleansing System?
You need to be sure that you are able to fully commit to the system for seven consecutive days. (Adults): In the morning, 30 minutes before or two hours after your first meal of the day, take one Release tablet (from the blister pack) and one Hepatocleanse capsule from the clear packet. Also, 30 minutes before or two hours after your first meal of the day, and two hours before or after taking other medications or natural health products (since the absorption of these products may be delayed), mix one rounded scoop (11.3 g) of the powder in 250 ml of cold water, stir or shake briskly and drink immediately. Throughout the day, be sure to drink plenty of water and other fluids (a minimum of 32 ounces/4 cups, optimally 64 ounces/8 cups per day). At bedtime, consume the remaining contents of one clear packet containing a final Hepatocleanse capsule and one more Release tablet and take with food. Consult a health care practitioner for use beyond 7 days. Repeat this cycle for seven consecutive days, taking the tablets/fiber/capsules at the same time each day.
How do TLS® Nutrition Shakes assist with weight management?
Anyone interested in weight loss or weight management and the achievement of optimal body composition, as well as anyone in search of a quick and easy meal alternative should take our Nutrition Shakes. TLS Nutrition Shakes assist in weight management by providing a source of quality protein and fibre — much-needed nutrients that also promote a feeling of fullness. TLS Nutrition Shakes are useful as meal replacements to help fight hunger and provide additional protein, fibre and calcium for your meals: breakfast, lunch or dinner. They can be enjoyed anytime. Great for a delicious fast food alternative! Protein provides much-needed nourishment while also blunting hunger pangs, enabling you to feel fuller for longer without becoming deprived of necessary nutrients.
Why do I need to take a multivitamin?
A good quality vitamin and mineral supplement creates a sound micronutrient foundation to accompany a balanced diet. Vitamins and minerals supplement dietary deficiencies and helps maintain normal metabolic functioning, helps maintain vision, skin, membrane, immune functions, and bone health, metabolism, and act as an antioxidant for the maintenance of good health.
Why are Isotonix® supplements better than standard supplements?
Isotonix formulas are more effective than standard supplement formulas because they offer efficient delivery of vitamins, minerals and nutrients into the bloodstream. The stomach has very little work to do because the pH and tonicity are carefully designed to allow the stomach to quickly release all the nutrients into the small intestine.
Do I have to exercise to see results?
In Phase 1 exercise is not recommended, but during Phase 2 exercise is essential. As with most weight management supplements, these products are designed to be taken in conjunction with a healthy diet and exercise. The steady loss of body fat combined with a steady increase in muscle tissue, achieved through proper nutrition and exercise, is the proven method for achieving weight and fitness goals.
TLS Product Reviews
---
Displaying reviews 1 - 1 of 1
---
Very impressed with everything!
I am very happy to see the new kit with daily essential and tracking sheet. Daily essential and tracking sheet is convenient and helpful for the first timer. The booklet has great amount of info and very easy to follow up. Core did great for me to control my appetite during phase 1 which used to be the hardest.
Response from Customer Service:
03/03/2020
Dear Valued Customer,

Thank you for taking the time to leave your thoughts on the TLS 30-Day Jump-Start Kit! We are happy to hear you are pleased with the product.

Thank you again!
The Product Information Team